</p>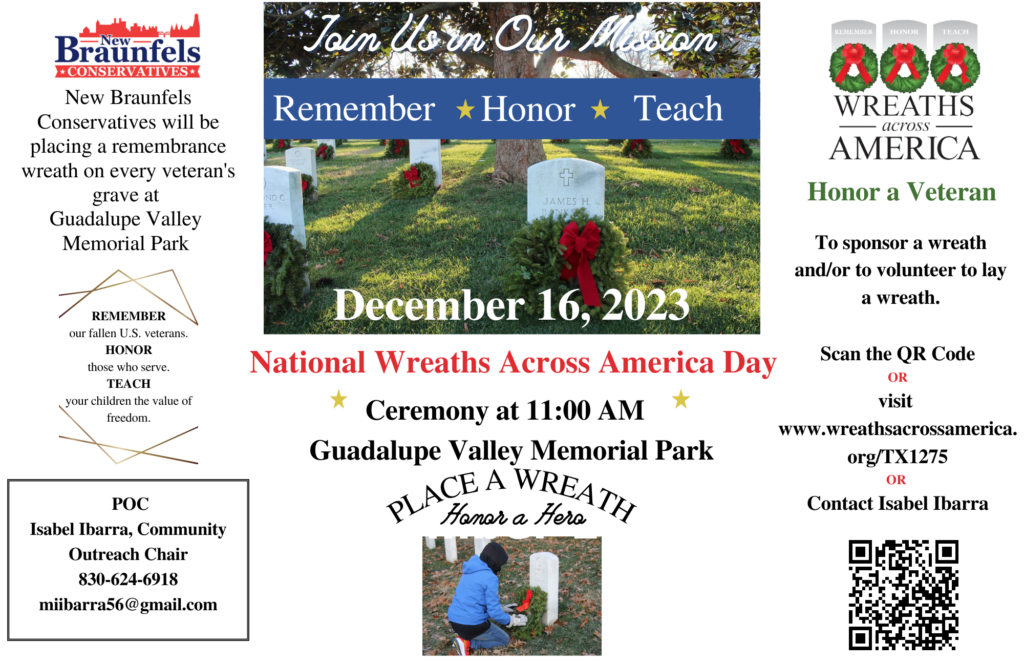 The New Braunfels Conservatives will be joining with the Vintage Oaks Veterans Association in the Wreaths Across America Project at Guadalupe Valley Memorial Park again this year. The ceremony will be held on December 16, 2023, at 11:00 AM, with the laying of wreaths following the ceremony.
We will be rolling out our Community Outreach project at our meeting on September 18th. Anyone wishing to purchase wreaths,  or sign up to volunteer to lay wreaths, may sign up at our table during the meeting, go to the New Braunfels Conservative (NBC) Website, visit the NBC's Wreaths Across America website, or contact Isabel Ibarra, Community Outreach Liaison at [email protected].
Each wreath is $15. For every 3 wreaths sponsored through NBC, Wreaths Across America will donate 2 wreaths to veteran graves at the Guadalupe Valley Memorial Park.
To learn more about the Wreaths Across America Project, please visit https://www.wreathsacrossamerica.org/