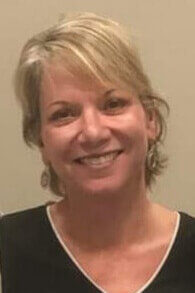 Laura is the daughter of a U.S. Coast Guard pilot and grew up moving around the country before finding her way to Texas in 1996. She earned her B.A. in Spanish from the University of West Florida which included a year in Spain studying at the University of Seville. While at UWF, Laura was a member of the College Republicans where she worked hard to persuade the conservative Reagan Democrats in the Florida Panhandle that they were actually Republicans!
She began her career in Human Resources at a boat manufacturing company in North Carolina, then moved to Corpus Christi, TX and worked at the area's oldest petrochemical refinery where she rose through the ranks to head the HR department. In 2000, Laura moved to San Marcos, TX to become the HR Manager at CFAN, a growing aerospace manufacturing company jointly-owned by General Electric and a French conglomerate. During her 15-year tenure there, Laura managed all aspects of the Human Resources department and presided over the company's growth from 100 employees to 700 employees.Â
During her career, Laura was active in several professional organizations. She served as President of the San Marcos Manufacturers Association and was a founding board member of the Hill Country Human Resources Association, a chapter of SHRM.
After retiring in 2016, Laura was able to return to her passion. She became actively involved in the New Braunfels Conservatives (formerly known as NBRW), the 100 Club, the Constitutionalist Foundation and served on her church council. She attended several precinct, county and state GOP conventions before being asked to serve as the chair for precinct 103.
Laura has been married for 20 years to a native of New Braunfels and has two adult children from her first marriage. She and her husband enjoy traveling, exercising and spoiling their two rescue mutts.