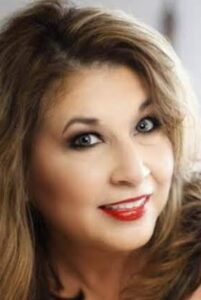 Sally Singley was born and raised in Harlingen Texas and is a proud 5th generation Texan and was the first child of two amazing and loving parents. Sally has 3 younger brothers, whom she adores and numerous nieces and nephews. Sally graduated from Harlingen High School and attended Pan American University where she majored in English and minored in History.
She moved to New Braunfels in 1995 when she married her husband, Tom Singley. They blended their families to make a beautiful home together. They each had a son from prior marriages. Now, as time has passed, Sally's son (DJ) has given Sally & Tom 3 beautiful grandchildren; Austin 24, Anna 16 and Lauren 13. Tom's son, (Jon), is still looking for the perfect woman with whom to settle down. Sally and Tom will be celebrating their 25th Anniversary in September!
Sally likes to keep active in her community and really be involved when joining any organization. Prior to serving on the New Braunfels Conservatives Board, Sally has also served on the Board of Directors of the New Braunfels Chamber, chaired the New Braunfels Chamber Trade Show for 2 years, chaired the Business Person of the Year for the New Braunfels Chamber, is a Senior and Life Member Blue Coat of the New Braunfels Chamber, was the Entertainment Chair for the first Dia de Los Muertos Festival in 2016, which was a huge success. Sally has been involved with the Women's Council of Realtors since 2008 and has served as its secretary, treasurer and Ways and Means Chair off and on throughout the years. In 2011, Sally introduced, to the club and to the community, the Bras for a Cause fundraiser, which for the past 9 years, has raised over $750,000 to go towards women afflicted with breast cancer. This is one of Sally's most passionate events that she works hard and looks forward to every year – but unfortunately, the event had to be cancelled for 2020.
Sally is Marketing and Business Development agent with Barnard Donegan Insurance and just celebrated her 22nd year working for her company. Barnard Donegan is an independent agency that has been in business since 1911.