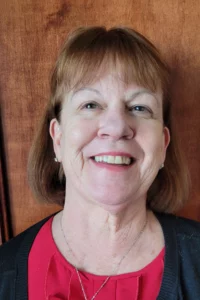 I was born and raised in Ohio where I met the love of my life, Steve, in high school. We married at age 19 and six years later began our family of three daughters and a son.
We since have been blessed with 2 granddaughters ages 8 and 10. We've lived in many wonderful locations including the Dallas area, the Wine Country in Sonoma Co., and beautiful New England, near Boston.
After considering many options for where to retire, I'm so happy that we chose the fantastic Hill Country Texas. I love traveling, boating, swimming, shopping, cooking, and most of all, family time.
Living here since January 2020, we've met so many great people of like minds and values. We belong to St's Peter and Paul Church, Vintage Oaks Veterans (associate members), and of course New Braunfels Conservatives. Anyone who knows me will agree that my glass is always half full.Â
I am looking forward to serving as the leader of the Membership Committee where in addition to performing the duties to the utmost, I will also focus on increasing our membership. We WILL keep Texas RED!!!